7th vs RO.PL "Veterans" FUNWAR (2012.08.05)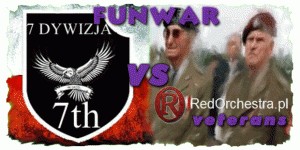 Ostatnio coś mocna posucha zarówno w świecie RO jak i RO 2 i nic tutaj na "główną" nie trafia. Miło więc, że Forumowicze biorą sprawy w swoje ręce i na ile mogą dostarczają powodów do zamieszczania tutaj informacji. Już wcześniej spotkaliśmy się na podobnej imprezie z klanem 7th, wtedy było trochę spinki, tym razem faktycznie jak w nazwie obie drużyny potraktowały to mniej (jedni) więcej (drudzy) dosłownie, czyli graliśmy "for fan". Wynik spotkania jest na tyle średnio-ważny że go tutaj nie umieszczę (a właściwie żeby być uczciwym to go po prostu nie znam bo przerwy w rejestracji miałem a niektóre rundy kończyły się na prawdę szybko ;) ) natomiast co "oko kamery" (bo tym razem było) zarejestrowało to po odrzuceniu prawdziwych dłużyzn zamieszczam poniżej.
[youtube]http://www.youtube.com/watch?v=-MraDj35mdE[/youtube]
Szkoda jedynie, że właściwie graliśmy "z pospolitego ruszenia" i to 2 dni po rzuceniu propozycji, także ani akcji promocyjnej ani głębszych ustaleń nie było, a mogło to znacząco pomóc w nazbieraniu większej ilości osób. Pozostawiam to pod przemyślenia na przyszłość ;)
Skomentuj wiadomość w
temacie na naszym forum
!